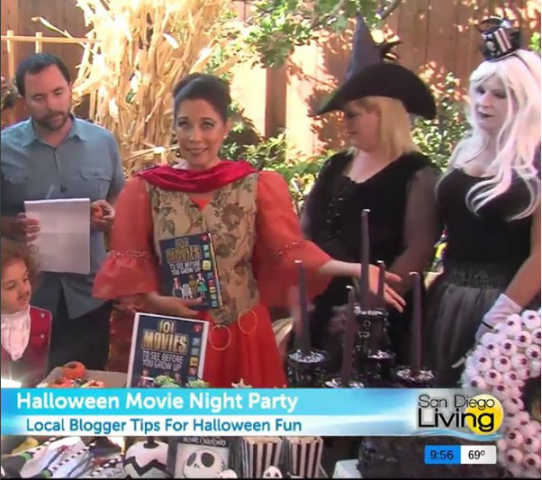 If you missed my Halloween Movie Night Party TV segment on the CW6,  watch the video to get all our helpful tips. You can also read on and click on each blogger's link to get all the instructions for the food and crafts featured on the show. 

I'd like to give a very special Thank You to the San Diego Mom Bloggers who collaborated with me to show you how to turn an ordinary movie night into to a fun Halloween memory!
Halloween is a few short weeks away.  The house is decorated and the excitement is building up. But there's one small problem: your kids are probably already fretting that this fun holiday falls on a Monday,  a school night. Boo!
No need to fear this scary situation. Start the celebration the weekend leading up to the big day by hosting a Spooktacular Halloween Movie Night!
As author of "101 Movies To See Before You Grow Up," I selected a few classic Halloween movies to watch with your family.
To help you plan this, we rounded up ideas from some of San Diego's premier food, craft and entertainment bloggers to show you how to stage the scariest movie night in your neighborhood!
San Diego Mom Bloggers came together and paired classic and contemporary Halloween film favorites with devilish dishes, creepy crafts, and tricky tricks for ghools and goblins of all ages.
For the Tiny Ghosts:
1.  "It's The Great Pumpkin Charlie Brown." (G) Kids ages 4 and up can watch Charlie and his friends scare themselves into a frenzy waiting for the Great Pumpkin to show up. Dress them up like Charlie Brown in a DIY costume, as blogger Danielle Simmons at Simmworksfamily.com did with with her child.
Then enjoy a traditional snack like Rice Crispy treats, but with a twist: Pumpkin Spice Rice Crispy Pumpkins made by Masha Itkin of MiAdvice.com. Too cute to be scary, right?
2. "Hocus Pocus" (PG) is a Disney Halloween comedy for the whole family. Dress up as witches and have the kids make broom stick napkins before the movie. They'll need the napkins because they'll be eating Pudding Cauldrons! The napkins and cauldrons are made by party expert Kylie Glenn Jenkins of MadebyaPrincessParties.com
For The Tween Set
3. The Nightmare Before Christmas (PG). This Tim Burton  classic is a must for Halloween. This movie is so popular that Disneyland even changes the Haunted House attraction to feature Jack Skellington and his crew from Halloweentown!
For this movie, Tonya Staab of  TonyaStaab.com created some spooky sweet popcorn incorporating white chocolate spider webs.
And Masha at MiAdvice.com made these custom Jack Skellington cake pops.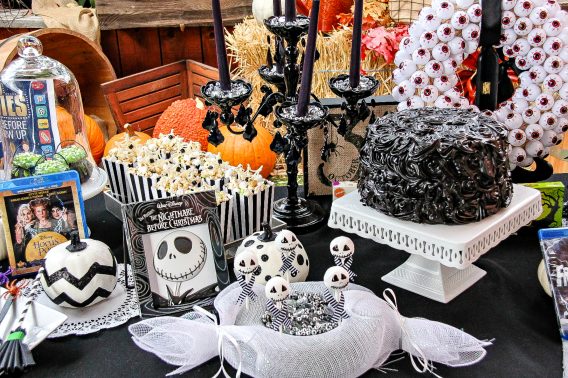 4. "Young Frankenstein" (PG). With the recent passing of Gene Wilder, of Willy Wondka and The Chocolate Factory fame, all young cinema enthusiasts should watch this classic movie. Alli Ward of MadeWithHappy.com gave us this fun eyeball wreath to make with the kids. "All the eyeballs will be looking at us," her daughter said when they made it. I love that it reminds me of Igor 's eyes, a character in Young Frankenstein.
Jackie Bruchez of TheSeasideBaker.com made the fabulous brain-looking cake to remind us that Frankenstein is alive because he has a brain!
5. "Beetlejuice"  is a movie from 1988 and is for older kids (PG-13). However, younger kids will remember Beetlejuice because it was made into a cartoon series in the 90s. 
This special juice was made by Melissa Hiatt of MakingitSweet.com and looks like it was made with beetle eggs (not really). 
It sure looks nasty enough to drink! So, let's drink up…if you dare.
Our black and white table setting is inspired by Beetlejuice!
To add to this night of frightening fun, project the movie in the backyard on a white sheet and have plenty of treats for everyone!
 HAPPY HALLOWEEN!