I put together my Top 10 Mother's Day Gifts from The Headquarters. I partnered with the center at Seaport Village in San Diego to create a list of unique gifts to help you shop for mom.
As a mother myself, I know I LOVE  to get thoughtful presents on Mother's Day. So, I put together a Gift Guide with some of my favorite things from the shops at The Headquarters at Seaport Village. Be sure to come by The Headquarters at Seaport Village Saturday, May 7th, from 12 to 2PM and say hi!  I will be in the courtyard offering you my suggestions and advice so you can get mom a unique gift just for her.
To narrow down the many choices, I kept myself in mind as I did the research. And, since someone in my family is bound to be reading this, it is riddled with not-so-subtle hints about what I'd like to get this Mother's Day, too!
These are The Top 10 Mother's Day Presents from the shops at The Headquarters I selected just for me, err, you!
Seaside Paper — I simply adore stationary. I'm old school and still hand write notes, Thank You cards, and keep To Do lists, notebooks, and journals all over the house. My dream is to one day have luxurious Kate Spade paper goods and matching accessories on my desk.
If mom likes to swipe your coloring books and crayons, then get her some of her own at Seaside Paper. Grown-up coloring books are very popular now, and you can add a box of greeting cards that mom can also color when the urge to take over your project hits her!
And you can't go wrong with Seaside Paper's selection of keepsake-quality Mother's Day cards either. They're just beautiful!
2. Madison San Diego — This boutique should be your first stop. Their clothes, accessories, and especially their jewelry are gorgeous. From Alex and Ani, Brighton to Free People, their styles are elegant but casual.
3. I especially LOVED Madison's exclusive line of jewelry from Mexico. The Bergen Saints and Angels collection is made in San Miguel de Allende, Mexico. The necklaces, rings, earrings and bracelets are made of sterling silver with an 18K gold overlay — which explains the price. You won't go wrong by starting your mom's new collection with one of these lavish pieces.
4.This Free People top at Madison, paired with Bergen Saints and Angels pieces and Alex and Ani bracelets would make a divine present!
5. Dallmann – Chocolate. It's a mother's best friend during good and bad times. What better way to indulge in chocolate than in fondue? I love the warm and silky melted goodness of a gourmet chocolate fondue. That's why I selected this gorgeous fondue set and canisters of melting chocolate. Yumm!
6. Geppetto's Toy Shop — For new mothers or moms with younger kids, cuddling with one's child to read a book with them is one of the most special moments we cherish. Give mom a special collection of books and sweet plush toys to share with her baby — and address the card from her child to her.
For the mom with toddlers or pre-K children, why not get the kids to make her something with their own little hands. Sure, the macaroni necklace or frame will be coming home from school with your child, but dads can also share a special moment with their kids making something extraordinary for mom.
Geppetto's has Craft Kits and Letters To Mom booklets you can customize to fit your unique family!
7. Urban Beach House — You'll find everything from beach wear to beach cottage décor here.  I had to select this print because the city I live in is the one in the largest font!
8. Locally crafted candles from Urban Beach House are always a welcomed gift. Why not have one in every room in the house?
9. If you want to get mom something with some bang for your buck, then this Brighton necklace from Madison will bring a smile to her glowing face. Can't go wrong with a huge heart to show her how much you love her.
10. For a real splurge for mom, this Swarovski crystal embellished Crown pouch, a My Flat in London design for Brighton, is very hard to find. But Madison has one!
How do I know this bag is scarce? Because the designer sent me a Tweet about it.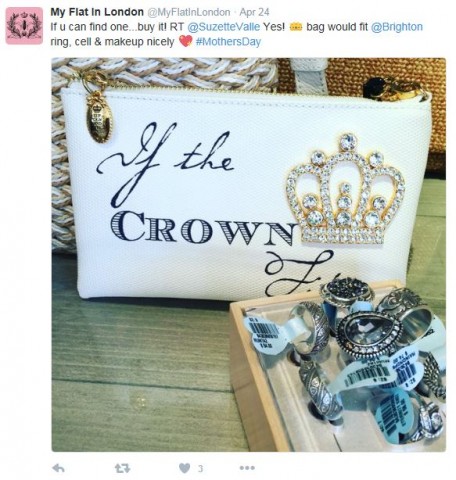 If you'll be shopping for mom Saturday, May 7th, I'll be at The Headquarters from 12 to 2PM, so come and see me! Can't make up your mind about what to get mom, or don't have a clue about what to get her? Then come by the center courtyard and ask me for help!
I will also be signing my book "101 Movies to See Before You Grow Up" in case you'd like to get a personalized copy for your mom or your home. Urban Shindigs, a local flower cart, will be there Sunday from 10AM to 8PM, too.
Mother's Day is Sunday, May 8.
Happy Mother's Day to all of my fellow moms!
Disclosure: I was compensated for this post. All opinions are always my own.