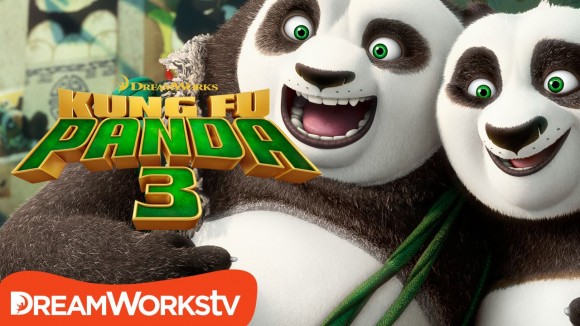 Get ready for the fun-filled and visually stunning animated film, "Kung Fu Panda 3" kicking down theater doors tomorrow, January 29!
DreamWorks Animation brings us the third installment in the successful "Kung Fun Panda" franchise featuring Po, the lovable panda voiced by the equally endearing Jack Black, as he grows up and tries to understand who he is and where he comes from.
In this story, we see Po showing off his awesomeness as the Dragon Warrior and Master of the Panda-style of Kung Fu around the Peaceful Valley. We also meet Po's long-lost father, voiced by Bryan Cranston, who wants Po to return with him to a secret Panda village hidden high atop the mountains and learn how to be a real Panda.

When Po discovers he's a Panda, and that there's a whole secret village full of them, he leaves his over-protective adoptive dad, Mr. Ping, and follows his real father to the panda village. There he meets a new set of pandas and settles in for a life of eating and sleeping.
But Po's peaceful existence is short lived when the villainous Kai starts a wave of attacks across China defeating all the kung fu masters. To defend the village, Po has to train the pandas to become the greatest band of Kung Fu Pandas.
Squadoosh!
As someone who's watched and written about many family films (101 to be exact, lol!), I was impressed by the superb quality of the animation in this film, as well as the easy-to-follow and touching story.
When watching this movie, take special notice of the panda fur, the fleshy movements of the characters' bodies, and the lighting throughout the movie. This is CGI work at its best!
I was invited to visit DreamWorks Animation Studios this week to screen the movie, and to take part in a Q&A with some of the key people who worked on this movie.
I had the opportunity to meet and chat with the co-directors of "Kung Fun Panda 3" Jennifer Nelson and Alessandro Carloni. I also spoke with Pablo Valle (no relation, we think), one of the Heads of Lighting for this film, and animator Frank Abney.
Valle  worked on films like "Shrek" and "How To Train Your Dragon." The lighting in this animated feature is especially important, he told me. It has a huge impact on the way you feel as you're watching the story unfold.
Frank Abney is an animator at DreamWorks who also worked at Disney on the animated films "Frozen" and "Big Hero 6." Abney gave us a presentation about the process of animating the characters' movements. Part of the process involves him having to act out a scene, record it, and then watch himself and his movements to then try to duplicate them by computer. "It's a pretty humbling process," he said about having to watch himself.
For families looking to spend some quality time together this weekend, "Kung Fu Panda 3" has something for all ages to enjoy: witty dialogue, sweet characters, jokes, puns, endless battle sequences, and a wonderful lesson about being who you are.
However, I think the part that will grab your attention the most while watching this enchanting movie,  is the visual celebration the animation in "Kung Fu Panda 3" has achieved. It's a party for your eyes!
"Kung Fu Panda 3" is rated PG
Runtime 1 hour 35 minutes