The Swag. The parties. More Swag. The screams of In-Real-Life meetings! The Expo Hall giveaways. The brands. More parties. And more Swag.
This BlogHer newbie did not know what to expect, but the blogger conference exceeded any expectations — and believe me, they were high. I'd been hearing about this unique conference for bloggers for a few years, and have friends who actually traveled to New York or Chicago where it was held in years past, to be part of the madness and warmth that are unique to this once-a-year carnival for world wide web writers. The convention is heading back to New York City next year.
The crew at www.BillMyParents.com booth at BlogHer
I had the added bonus of being invited to help launch a new product at BlogHer. www.BillMyParents.com is a San Diego based company, and I was so lucky to have been ensconced at a booth in the expo hall where I met so many of the bloggers I follow on Twitter! It was non-stop talking for three whole days.
My feet are once again in agony (too bad I didn't discover the Dr. Scholl's inserts given away until the last day), but I did get a free bottle of Skinny Margarita to ease the pain. With three parties per night, I didn't know I had it in me to walk, run, dance, drink and be merry for all those hours hopping from a roof top to pool deck and then museum floor all while lugging swag bags as big as me.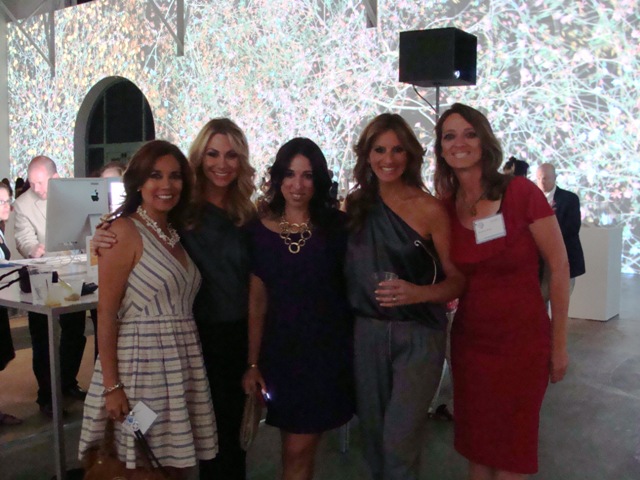 The actresses of "Mom in The City" on NBC at the You-Phoria Party at the San Diego Museum of Contemporary Art.
Each party outdid the last one; the food, the fun, and the brands. From Morton's appetizers at the private blogger Glamor Suite at Robert Cromeans' Salon hosted by The iFabbo Group, to Kmart's new line of Gordon Ramsey cookware presented by Cheap Sally, to the screening of the upcoming TV show "Pan Am," it was all in a day's work for brand ambassadors and bloggers.
There were also some very special opportunities presented to each of us, almost tailored to our own blog's niche. For me, listening to PepsiCo's CEO Indra Nooyi and Willow Bay discuss the importance of mom-bloggers in today's market place;
PepsiCo CEO Indra Nooyi and Willow Bay. Photo S.Valle
and meeting Rosalind Wiseman, author of "Queen Bees and Wannabees,"
Author Rosalind Wiseman Photo S.Valle
to the invitation to a private dinner at the University Club hosted by Sony Television to screen the new television series "Pan Am," were the highlights.
Sony Pictures Television Vice President of Media Relations, Karen Barragan and me. Photo S. Valle
I had a great time and felt like a college girl (not a high school one. Our antics were more mature than that!) all over again. I was giving gals rides from Stingaree to The Hard Rock, and then picking more up and dropping them off at the Marriott downtown. We barely fit in the car, and gave preference to the gift bags filled to the brim with enough products to sustain a family for a week!
It was a fast-paced three days, but well worth the investment of time, effort and energy. I was touched by stories of how some were able to make the cross-country trek leaving behind newborns, husbands, jobs, and other regular-life responsibilities to become part of the 3,000 strong group of like-minded people who gathered in our fine city to engage, promote and protect what each has digitally created seemingly out of thin air: a brand of their own.
www.ChicaCircle.com owner Pauline Molinari and I finally meet after years of online friendship! Photo by S. Valle
In the end, it was making the connection with others who get this wild world of blogging that made this conference special for me.