Hollywood, Shmollywood.
Writing about celebrities' outrageous lives all the time bums even ME out!
Taking a break from their attention-grabbing headlines once in awhile is what I do here at Mamarazzi Knows Best, so please excuse the periodic breaks from celebrity tittle-tattle while I step off my soap box to tell you about some special encounters in my life.
Like yesterday, for instance.
I spent the morning with a great group of  bloggers at the Head to Toe Women's Expo in Del Mar, California. The event is organized by two very dedicated women, Debbie Adelman and Rosemarie Gibson, and is held annually in San Diego and Pasadena, California, and focuses on gathering products, services and merchandise for women; everything from glitter tattoos, to frozen wine slushies, to baby furniture are under one roof for three "Girlicious" days.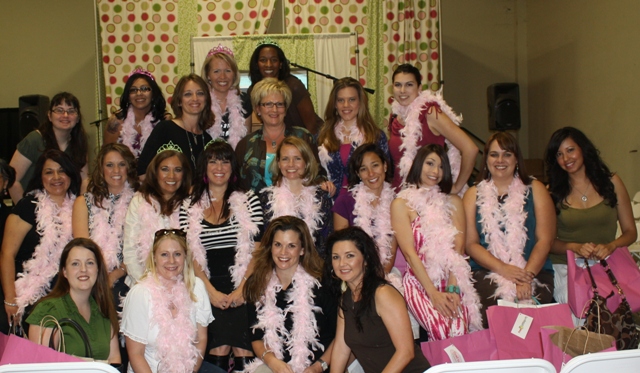 Bloggers at the Head To Toe Women's Expo with author Carolyn Gross. Photos by B. Valle
One of the 'power bloggers' in our area is Stacey Ross, SanDiegoBargainMama.com , and she helped organizers Deb and Rosemarie get a group of bloggers together to attend this fun day as VIPs. We had our own private area with pink table cloths, swag and a special chat with author Carolyn Gross.
Pink boas, tiaras and front row seats to an incredibly dynamic presentation by motivational speaker Carolyn Gross and author of "Staying Calm in the Midst of Chaos," and "Treatable and Beatable," were part of the game plan for us (along with major Tweeting) at the event.
The blogging community I've become part of since I undertook this writing endeavor continues to amaze me because of the generosity of the women I've met on the web.
That's right.
As creepy as this may sound to some if not most of you, I've met and befriended real people on the Internet I actually like in real life (IRL as we say on Tweeter); people of very different walks of life I may have never crossed paths with had I not delved into the techie world dominated by Twitter, Facebook and the great Hollywood news outlet I blog for, The Wrap.
I've had the good fortune of being embraced by some dedicated bloggers who started off just like me, doing it for fun, but as time went on websites, blogs and Tweet-Ups have gotten a life of their own – and we are all along for a completely unknown ride.
But, I digress from the purpose of this post.
Carolyn Gross was the keynote speaker at the event today. "Whine or Shine" is her tag line and made us all think about how we deal with adversity — and she has had her share of it. An energetic, inspirational author and Breast Cancer survivor, Carolyn unbeknown to her also confirmed something I've known since I met Stacey.
"Never be afraid to take on a mentor," Carolyn told us. "There's always someone who knows more or has done more who is willing to share that knowledge," she advised us on how to lessen our stress.
In my case, these words could not be truer.
The very reason I was hearing the author say this words in person was because of MY mentor, Stacey, who invited me to be part of this day with her and the other gals she's helped along the way.
From the first day we met, she's shared her insights, thoughts and visions about our business with me — she even shared her site space with me – and I think her kindness towards me is not over yet. I feel very lucky to have someone in our cyber community who is generous with her experience, is in constant contact with us, and keeps us all in the loop so we can remain a united community.
What started out to be another 'Blogger Event' ended up teaching me a little bit about the kindness of cyber friends: it does exist, but you have to be open to learn from them.
Now, about those pink boas and tiaras we wore today, it was actually fun in that girl-stuff kind of way — even made me feel, well, special.
You know, like a celebrity!