This summer, families can go camping at the Five Star Peninsula New York with Camp Peninsula. No, you won't be sleeping in the great outdoors. Au contraire, my friends. The tent will be pitched right in your grand luxe rooms complete with s'mores.
If this doesn't sound like the typical luxury hotel stay, you are correct. The PNY is once again disrupting the status quo which earned it the prestigious Forbes Five Star and AAA Five-Diamond ratings.
The Peninsula New York, I'm happy to report, stands out from the list of luxury hotels I've had the good fortune of visiting in recent years. Why? Because not all five-star hotels are created equal.
In midtown Manhattan, location is everything. The majestic 23-story landmark building kept it's Beaux Art architectural features and is conveniently situated one door off 5th Ave at the corner of 5th and 55th. If you know Manhattan like I do, then you know this is the prime shopping area: Bergdorf Goodman, The Plaza Hotel, Cartier, and the flagship Apple Store are a short walk from here.
LUXURY IS IN THE DETAILS
The luxury hotel experience is found in the details at PNY. Our courteous, gracious, and thoughtful experience at PNY, three key requirements of a Forbes Five Star Luxury Hotel, started as soon as we pulled up curbside. We were greeted by uniformed bellmen dressed in their distinctive attire: all white including the bell cap's hat. So cute!
The speedy check-in was appreciated since we'd just traveled from coast to coast. As soon as we opened the door to our opulent, yet unpretentious, accommodations we were immediately captivated; fresh flowers, slippers by our bedside, complimentary in-room Nespresso coffee machine, tea and coffee, toothbrushes and toothpaste in the bathroom, robes, water bottles, wine and glasses, and a fruit tray are just a few of the amenities that awaited us as we crossed the threshold into our Executive Suite.
Our 20-year-old daughter joined us for our three-night stay to celebrate her 21st Birthday. The thoughtful staff had a beautiful personalized cake waiting in our suite to surprise her.
The extra bed in our suite was complimentary. Free WiFi was also available in our room and through out the property. I appreciate it when a 'luxury hotel' doesn't nickel-and-dime guests for these things.
The spacious suite had a living room with a sitting area and a marble-topped coffee table. During our stay, we enjoyed our morning coffee on a round dining table tucked in the corner. Across the hallway, we had another half bathroom and his-and-hers walk-in closets.
Spending a lot of time in the powder room wasn't hard in our beautiful floor-to-ceiling marbled bathroom. We had double sinks, a shower, a separate restroom, and a large bathtub with an inset television for that long soak after a full day of shopp…er..sightseeing!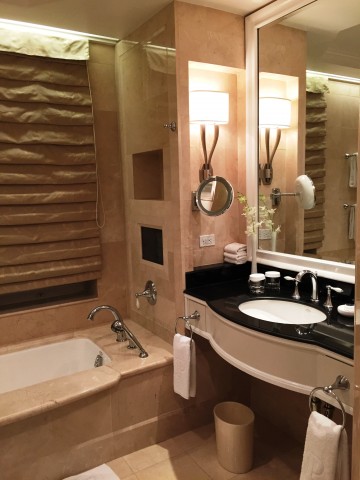 The suite was encased in splendid crown molding — the kind I wish I had at home. The turn down service was a ritual; all our charger cords were coiled and tied up with PNY custom ribbon, the lights were dimmed, and fresh towels and water bottles replaced.
Complimentary use of Beats headsets were also included with our room, and came in handy for my husband and daughter's morning workouts at the state of the art gym in the building.
WORK IT OUT
The Spa at the Peninsula New York is located high above the city's constant noise. It's a peaceful oasis in the middle of this bustling metropolis. My girlfriend Ellen, who lived in Manhattan and then moved to the suburbs, knows a spa or two. She said this was one was one of the best, if not the best, spa in New York City right now. I think I know why: sauna, aromatherapy steam room, individual relaxation rooms with plush beds in complete darkness and quiet, an ice fountain, a rooftop glass-enclosed pool, an Asian Tea lounge, and abundant treatments make up this incredible spa. Everything from sandals to brushes, to hair and bath products are complimentary. Water, fruit, towels, and dedicated staff are constantly replenishing everything and making sure your every need and expectation is met.
CAMPING IN HIGH STYLE
This summer, The Peninsula New York would like to welcome your family to take advantage of a new program they will be offering for the first time: Camp Peninsula. Requesting the summer package doesn't mean you'll be glamping in Central Park (though that does sound fun!). Instead, the tent will be pitched in your grand family room complete with s'mores and other fun trappings of traditional camping. And you can let someone else worry about the sticky mess!
When you arrive, a picnic lunch is set up in the glass-enclosed pool.  And remember,  kids 10 and under can enjoy their own free menu throughout their stay. And if you book a camping room , you get 50% off an adjoining one! Use code NYFAMILY to take advantage of this special rate.
Comfort is essential and extra cozy for kids visiting The Peninsula New York. They get their own robes and slippers at turndown, and a tasty treat each evening.
Oh, how fun to be a kid at The Peninsula New York!
PETER BE READY
When we were there, the lobby was transformed into a Peter Rabbit themed Easter wonderland. The sweet scent of flower pots overflowing with hydrangeas and tulips filled the air. And the smell of chocolate bunnies and eggs wafted all through the lobby.
KNOW BEFORE YOU GO
I met with the PNY Public Relations Coordinator, Jessica Bancroft, and she gave me a personal tour of the property. We went up to the rooftop bar and took in the breathtaking view of 5th Avenue 20 floors below.
The balcony wrapping around the rooftop is about to get a makeover for the summer with new outdoor furniture in a more contemporary vibe.
One amenity with didn't take advantage of was the complimentary three-hour use of a Mini-Cooper! Basically, you book it and drive it around the city. Go to a restaurant, or visit the farthest corner of Central Park. That's up to you. We certainly have to do this on our next visit to the PNY.
The Peninsula New York is a welcomed change from the usual stuffy luxury hotel treatment we've encountered at other properties. The balance of chic, luxury, and courteous service was definitely felt during our stay.
At PNY, we were treated like (royal) family, and we loved every minute of it!
We should all be able to experience an ultra luxurious stay at least once in our lives, right? Have you? Have you stayed at the Peninsula New York or at any of their world-wide properties?
The Peninsula New York
700 5th Ave at 55th Street
New York, NY 10019
212-956-288
800-262-9467
email pny@peninsula.com
Disclaimer: We won a gift certificate for a two night stay at The Peninsula New York. Nothing was comped for this review. All opinions are always my own.