Our son's graduation is finally behind us! It was a TWO week-long celebration full of formal award presentations, sports banquets, mass, blessings, parties and lots and lots of family. Our first-born is the fifth in our family to go through the pomp and circumstance of graduating from high school, but the second one going on to a four-year University in the United States.
Also behind us are eighteen years of working with him to memorize everything from the alphabet to multiplication tables; prayers and game rules; from saying please and thank you to being compassionate, sympathetic and empathetic, to teaching him to say I'm sorry and excuse me.
Eighteen years of hounding, harassing, herding, shepherding, leading, following, talking-till-blue-in-the-face and pounding into his brain as many life lessons as we could, and will now be in his hands to do as he sees fit come August 2010 when he moves into a dorm. All the high school academic requirements are met, plus many more social graces taught and hopefully learned. We'll know very soon how much of these daily lessons are instilled in him as he heads to college on his own. I know that if he trips and makes a mistake it will come back to us, the parents, but for now I'm content with the job we've done.
To celebrate our son's high school graduation we threw a party for family and close friends who have been part of our son's life over the years. At times it felt like a mini-wedding, as one our guests told me, since I was running around in a mother-of the-groom type frenzy. In fact, I thought it kind of was a celebration of this magnitude, I told him, because goodness knows what'll happen at his real wedding – the bride will probably not let anywhere near the planning so at least I got to choose everything for this proper send off!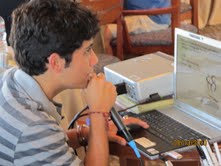 Also, I'm not your DYI type of mom, but have to say that when inspired by love for a child, I found the crafty side of me came shining through for this party. So if you'll indulge me for a moment, I'd like to share the details of the festivities and thank everyone who helped us to celebrate and send off our son to pursue the next stage of his education and personal development.
The Personal Touches
I made a memorabilia table displaying our sons various acamdemic and athletic awards, ceramic class pieces, and photos. I also made two books: a photo book at MyPublisher.com and a scrapbook with newspaper clippings and photos.
I placed rocks with stickers around the centerpieces as table scape.
I made a DVD with baby photos, friends, family, and video clips of some fun times during high school events and family events. I included photos with teachers, mentors and coaches and played it continuously on a rented screen and projector I ran with my laptop.
I made rolled diplomas with napkins and tied them with tassels and rings inscribed with inspirational words.
Rentals
Tablecloths and plate chargers were rented from Elegant Events in Chula Vista (619) 427-7080 (website coming soon). Please ask for Griselda if you call them for your next party. She will give you precious FREE advice to help make your celebration special; from how to save on decor to where to purchase it, she's a wonderful person and resource!
Voice and Video Rentals helped me with the equipment for the slide show. They gave me a tutorial on how to install it and use it – they even have a 24/7 hotline in case you run into technical difficulties!
Food
Mexican food was catered by Lolitas next to PETCO park. The service included delivery and heating boxes. It was awesome and scrumptious too!
We served Miguel's Cocina Jalapeno Cheese Sauce and Ceviche from Northgate Market with chips as appetizers.
I hired two waiters who made Margaritas and Sangria and served all the beverages (and helped with everything from set up to clean up!).
Cupcakes and cake were made by Coronado Cupcakery at the Ferry Landing in Coronado. Rosalina Ascolani is a Coronado High School Alum who also attended Georgetown University and owns this sweet bakery! The ChocoFlan was a gift to my son from a friend.
Entertainment
Instead of a DJ, I organized the mother of all trivia games complete with power point slides and prizes. I included questions ranging from school trivia to World Cup questions and I also had quizzes and prizes for the little ones.
<?xml:namespace prefix = o ns = "urn:schemas-microsoft-com:office:office" />
Resources Off The Internet
Invitations and Thank You cards made at Shutterfly.com
Banner and Graduation Party Sign from Shindigz.com
Purdue balloons, tissue boxes and game folders from Purdue.com
Favors from Favoraffair.com
Tassels for napkin rings from Tasseldepot.com
Inspirational word rings and stickers for the rocks from Michaels
(Disclaimer: Items used for this event were not sponsored by anyone. )