Frida and Me, a family-friendly exhibit and companion exhibit to Modern Masters of Latin America, opens at The San Diego Museum of Art Saturday, October 21. Enter our giveaway below for a chance to win a family 4-pack of passes to see the exhibits!
Frida and Me is an educational and interactive children's exhibition that explores the inventiveness and power of Frida Kahlo's work.
This is the first time this exhibition has been on view in the U.S., and it offers interactive learning elements and activities for kids. Some highlights include:
A playful circuit including a series of fun activity stations immersing children and families in the life of the celebrated twentieth-century artist, Frida Kahlo.
Each station offers a reinterpretation of the artist's sources on six themes: the self-portrait, pain, family, nature, her husband Diego Rivera, and Paris.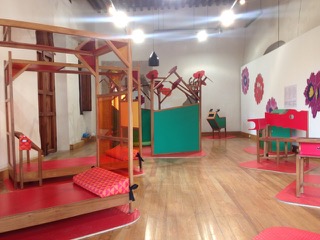 To complement the exhibition of the Perez Simon Collection, the San Diego Museum of Art is hosting Frida and Me, an educational exhibition aimed at children that explores the inventiveness and power of Frida Kahlo's work. Produced by the Georges Pompidou Center in Paris as well as Arts & Fun and its general manager, Deidré Guevara Gallegos, Frida and Me is composed of multiple modules based on Kahlo's life and the famed Casa Azul, her residence in Mexico City that furnished an important part of her artistic identity.
Each section features interactive elements and workshops that engage young visitors creatively and help them tap into the artist within. On view for the first time in the U.S., Frida and Me is open throughout the run of Modern Masters from Latin America. Previously, Frida and Me toured throughout the United Kingdom, France, and Brazil.
 "Modern Masters from Latin America: The Pérez Simón Collection is a visual representation of the appropriation and reinvention of Modernism in Latin America, and brings together a remarkable selection of artists," said Roxana Velásquez, Maruja Baldwin Executive Director of The San Diego Museum of Art and curator for the exhibition. "We are honored to bring this private collection of Latin American works from Mexico for the very first time, and to share it with the San Diego community and its visitors." Velásquez is the curator for the exhibition with guest co-curator Rocío Guerrero and assistance from Anita Feldman, Deputy Director for Curatorial Affairs and Education, and Ariel Plotek, Ph.D., Curator of Modern and Contemporary Art.
The private collection will be displayed publicly for the first time.
The exhibition showcases nearly 100 works of art by some of the greatest modern masters from Latin America, and is part of the Getty Foundation's Southern California 
Pacific Standard Time: LA/LA initiative
.
Spanning the late 1800s to the first decade of this century, Modern Masters from Latin America: The Pérez Simón Collection represents more than 75 artists, each celebrated for their respective techniques and regional influence on modernism. Noteworthy artists include Frida Kahlo, Rufino Tamayo, Fernando Botero, Jose Maria Velasco, Joaquín Torres-García, Kazuya Sakai, Jesús Rafael Soto, Roberto Matta, Wilfredo Lam, as well as Diego Rivera, David Alfaro Siqueiros, and José Clemente Orozco – the three pioneers of the Mexican muralism movement.
The collection will be on view at the Museum October 21, 2017 through March 11, 2018.
Juan Antonio Pérez Simón is a Spanish-Mexican businessman and celebrated art collector who began to build his collection in the 1970s. His passion for art and taste for culture has led him to acquire and continue to expand one of the world's greatest collections of portraits, landscapes, and abstraction.
Modern Masters from Latin America is part of Pacific Standard Time: LA/LA initiative, a far-reaching and ambitious exploration of Latin American and Latino art in dialogue with Los Angeles, taking place from September 2017 through January 2018 at more than 70 cultural institutions across Southern California. Pacific Standard Time is an initiative of the Getty. The presenting sponsor is Bank of America.
Additional programming that will accompany Modern Masters from Latin America includes a lecture, panel discussions, fine arts workshops, a series of Latin American films, and more. There will also be a catalogue available with contributions from Roxana Velásquez, Rocío Guerrero, and Gerardo Mosquera.
For more information on The San Diego Museum of Art or to purchase tickets or a membership, visit www.SDMArt.org.
a Rafflecopter giveaway

About The San Diego Museum of Art
The San Diego Museum of Art is located at 1450 El Prado in Balboa Park, San Diego, Calif., 92101. General Information, (619) 232-7931, Group Sales: (619) 696-1935, Website: http://www.sdmart.org Twitter: @SDMA, Instagram: @SanDiegoMuseumofArt Facebook: http://www.facebook.com/TheSanDiegoMuseumofArt
Providing a rich and diverse cultural experience, The San Diego Museum of Art houses some of the world's finest art. Located in the heart of Balboa Park, the Museum's nationally renowned collections include Spanish and Italian old masters, South Asian paintings including the Edwin Binney 3rd Collection of Indian paintings, East Asian art, American art, and Modern and Contemporary paintings and sculptures. The Museum regularly features major exhibitions of art from around the world, as well as an extensive year-round schedule supporting cultural and educational programs for children and adults. At The San Diego Museum of Art, exhibition text is always in English and Spanish.