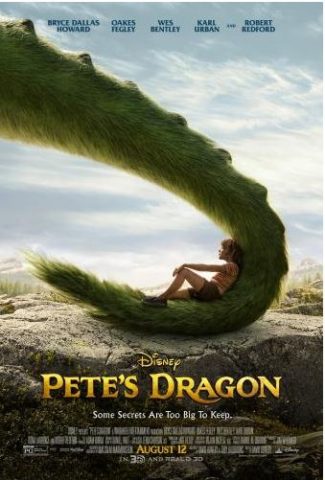 Disney and Mamarazzi Knows Best would like to give YOU free passes to a screening of their upcoming movie, "Pete's Dragon," in San Diego.
Find the link to download your FREE passes, date, time, and place for this screening after the jump.
Many of us are familiar with the story of this friendly dragon because we grew up with Disney's 1977 version.  The reboot of this beloved tale promises to give a new generation of movie-goers a similar heartwarming story, but with an updated look and special effects.
Movie synopsis:
For years, old wood carver Mr. Meacham (Robert Redford) has delighted local children with his tales of the fierce dragon that resides deep in the woods of the Pacific Northwest. To his daughter, Grace (Bryce Dallas Howard), who works as a forest ranger, these stories are little more than tall tales…until she meets Pete (Oakes Fegley). Pete is a mysterious 10-year-old with no family and no home who claims to live in the woods with a giant, green dragon named Elliot. And from Pete's descriptions, Elliot seems remarkably similar to the dragon from Mr. Meacham's stories. With the help of Natalie (Oona Laurence), an 11-year-old girl whose father Jack (Wes Bentley) owns the local lumber mill, Grace sets out to determine where Pete came from, where he belongs, and the truth about this dragon.
See this movie at the AMC Mission Valley, Tuesday, August 9 at 6:30pm with your FREE screening passes. 
Be among the first to see "Pete's Dragon" in 3D before it opens in U.S. theaters on August 12, 2016.
Click on the link below and download your FREE Screening Passes. I recommend that you get to the theater early because seating is not guaranteed.
http://www.seeitfirst.net/pin/705085
Each pass is good for two people, and they are first come, first served. Enjoy!
Website: disney.com/petesdragon
Facebook: facebook.com/disneypetesdragon
Twitter: twitter.com/disneypetes
Instagram: instagram.com/disneypetesdragon
Snapchat: disneystudio
#PetesDragon