Did you notice a difference in this year's Golden Globes? I thought I detected a younger more vibrant group of actors commandeering the stage. From Natalie Portman, to the cast of "Glee", to Andrew Garfield and Jessie Eissenbeg of "The Social Network", the talent was predominantly youthful. The broadcast was also fast-paced and to the point which had us paying attention to the short acceptance speeches (were they really 60 seconds each?) or we'd miss them. (Yes, we can rewind the DVR, but then Twitter would get ahead and spoil the news).
The 2011 Golden Globes were crisp, clear, and concise. Ricky Gervais' second stint as host was irreverent and let them all have it right between the eyes. The jabs about the bribes surrounding the annual acting recognitions, and the bold comment about Bruce Willis being Ashton Kutcher's father made me wonder what that amber-colored liquid in the host's glass on the podium was: truth serum?
I never get enough of watching the parade of fashion and unfashionable faux pas that are all part of the awards show. This year, I liked the trend toward the stronger hues of the gowns – tangerine was by far the boldest color I noticed. Kaite Sagal was stunning in this popular color.
Some of my top fashion picks were Olivia Wild's Black Cinderella-like dress, Lea Michelle's pink gown, and Ann Hathaway's old Hollywood shimmering 'little CDs' (as per Ryan Seacrest) glamour.
Selecting the men was tough since for the most part they looked really good (and tuxes are so hard to distinguish from one another). I liked the clean look Robert Pattison wore this year (including his hair), Jimmy Fallon and pretty much every other male in a dark tux and bow tie at the Hilton.
There were a few exceptions, as always. On my list of worst offender of the evening is Heidi Klum. As I tweeted when I first saw her, "Go home and change and we'll pretend we never saw this". She was a total calamity! The unfortunate Marc Jacobs choice seemed more appropriate for a pool party.
Everyone is going to harp on Helena Bonham-Carter for her 'eccentric' selection and mismatched shoes, but we've come to accept her style. Except, it was harder to overlook her outfit this time given the seriousness of the role in the movie she was nominated for.
As for the gentlemen, I can only mention a couple.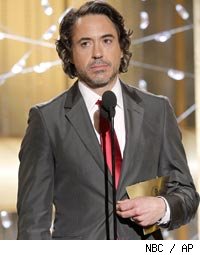 It is with deep regret I must mention Robert Downey Jr. It's not his hair that missed the stylist chair, but the light, grey color of his suit that did not find favor with me. And, well, I think it's time Al Pacino lay off the blow dryer and styling paste and age gracefully, don't you agree?
It's been said that award shows are extremely vain since it's the same industry awarding those who've already been rewarded with exceptional gifts: success, fame and money. However, I enjoy watching the unscripted emotional reactions of the winners who can certainly transmit them when we watch them on screen. In the heat of the moment, some actor's speeches usually reveal a little bit about themselves that we can learn from.
This year's take away moment for me came from the winner for Best Screenplay for "The Social Network." Aaron Sorkin's speech referred to the women in film this year and spoke directly to his daughter, Roxy: "Elite is not a bad word, it's an aspirational word," he began. "Honey, look around; smart girls have more fun and you're one of them."
I leave you to ponder Sorkin's statement. What do you think he meant?
To see the full list of Golden Globe winners click here. <?xml:namespace prefix = o ns = "urn:schemas-microsoft-com:office:office" />