We watched the music awards show on and off, and only what appealed to the various tastes in our household. Coldplay's "Viva La Vida" was our top choice to win as many Grammys as it was nominated for. Of course, for my teen-aged daughter the Jonas Brothers being denied the victory again – they were upset by Britney Spears at the VMA's – was a disappointment, especially loosing to someone she'd never heard off!
We DVR'd the show so we could skip the uninteresting parts and only hit play on the highlights; Kanye and Estell, Katie Perry, Paul McCartney and the Jonas Brothers.The brother's performance with Stevie Wonder was not a bad idea, but little Nick Jonas forgot the lyrics while singing Wonder's song "Superstitious". Their particular performance was exuberant but traditional, no special effects or props, but as much as I support the trio, I thought it was a bit lackluster for the their first Grammy appearance. The paring of two jaded ex-Jonas girlfriends – Miley Cyrus admitted to have dated Nick Jonas and Taylor Swift's cell phone dumping was the headline on all the glossies for a while – was another brow-raising performance. Among all the young performers out there, was this duet the best producers could come up with?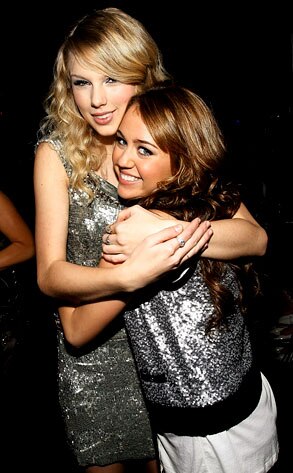 Photo E! News On line
Katie Perry's "I Kissed A Girl" fruit medley in ballerina shoes looked like a Celia Cruz number in a circus act, while Jeniffer Hudson added a touch of reality to the entire show. Whitney Houston looked healthy; it would have been great to have heard her belt out an oldie but goody.
Except for Chris Brown and Rihanna's quarrel, I noted the adolescents in attendance all stepped-up their game for this event. What could those two have been arguing about? Money? Nah, that's probably something for the rest of to deal with at the moment.
Finally, with a nod to Quincy Jones and his on line petition effort to promote the creation of a cabinet position in government to oversee the Arts and Culture in this country, Grammy president Neil Portnow publicly petitioned President Obama, a Grammy Winner himself, to establish a Secretary of Arts.
The noticeable absence of loud, blinged-out rap numbers was a nice respite for families watching this year. Overall, the 2009 Grammy Awards had a subdued tone; it was a cool, calm and collected affair in line with the current state of our country's economy.